Ang Fiber Laser Welded Pillow Plate Heat Exchanger
Detalye sa Produkto
Mga Tags sa Produkto
Ang ibabaw sa pagbalhin sa init nga Pillow Plate usa ka panel-type heat exchanger nga mahimo sa usa ka dili matapos nga mga porma ug gidak-on. Angayan kaayo kini alang sa mga aplikasyon nga naglambigit sa taas nga pagpit-os ug pagpadayon sa temperatura.
Ang plate sa pillow nga Heat Exchanger naghatag maayo nga nahimo nga pagpabalhin sa kainit. Pinaagi sa fiber laser-welded ug inflated nga mga agianan mag-aghat sa likido nga daghang kagubot aron maangkon ang taas nga coefficients sa pagbalhin sa kainit.

Single Embossed Pillow Plates usually work as a Clamp-on Jacket for vessel or tank wall surface heat exchange or directly used for coolant plate contact with product.Two sheets thickness are different.
Double Embossed Pillow Plates usually work as the evaporators for falling film chiller, plate ice machine, plate bank, or immersion plate heat exchanger, etc.
The two sheets thickness are the same.
Falling Film Chiller with Pillow Plates Evaporators ☝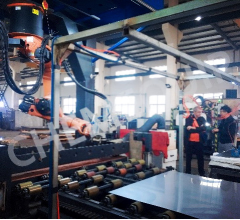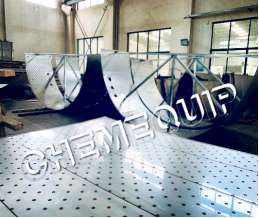 Two Sheets are Laser Welded Together ☝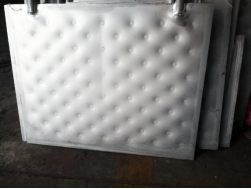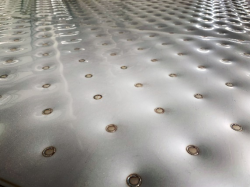 The next two step inflating and pickle passivation. ☝
Ang among fiber laser welded pillow plate heat exchanger mahimong magamit alang sa kadaghanan sa mga kagamitan sa heat exchanger sama sa:
(1) Pillow Plate Ice Bank alang sa Ice Thermal Storage
(2) Pillow Plate Falling Film Chiller
(3) Dimple Tank
(4) Plato nga Ice Machine
(5) Evaporative Plate Condenser
(6) Immersion Plate Heat Exchanger
(7) Bulk Solid Heat Exchanger
(8) Tag-ilinit sa Tubig nga Heat Exchanger
(9) Flue Gas Heat Exchanger
| | |
| --- | --- |
| 1. Steam | 2. Tubig |
| 3. Pagdala sa Lana | 4. Freon |
| 5.Amonia | 6. Glycol Solution |
| | |
(1) Ang nagpadako nga mga agianan naghimo sa labi ka taas nga pag-agay sa kagubot aron makab-ot ang labi ka taas nga kainit sa pagbalhin sa kainit
(2) Magamit sa kadaghanan nga mga materyal, sama sa stainless steel SS304, 316L, 2205 Hastelloy titanium ug uban pa
(3) Magamit ang gipasadya nga gidak-on ug porma nga magamit
(4) Ubos sa labing kadako nga internal pressure mao ang 60 Bar
(5) Nag-ubos ang presyur sa presyur
Ang among pillow plate heat exchanger mahimong labi nga magamit sa paghimo alang sa nahulog nga film chiller, ice bank, jackets tank ug plate ice machine, immersion plate heat exchanger, ug uban pa.
---
Kaniadto:
Bulk Solid Plate Heat Exchanger
Sunod:
Plate Crystallizer
---
Isulat ang imong mensahe dinhi ug ipadala kini kanamo
Mga kategorya sa mga produkto