Fiber Laser Welded Pillow Plate Heat Exchanger
Product Detail
Product Tags
Pillow Plate heat transfer surface is a panel-type heat exchanger that can be made in an endless range of shapes and sizes. It is ideally suited for applications involving high pressures and temperature extremes.
Pillow plate Heat Exchanger provides the highly efficient heat transfer performance. By the fiber laser-welded and inflated channels induce fluid great turbulence to attain high heat transfer coefficients.

Single Embossed Pillow Plates usually work as a Clamp-on Jacket for vessel or tank wall surface heat exchange or directly used for coolant plate contact with product.Two sheets thickness are different.
Double Embossed Pillow Plates usually work as the evaporators for falling film chiller, plate ice machine, plate bank, or immersion plate heat exchanger, etc.
The two sheets thickness are the same.
Falling Film Chiller with Pillow Plates Evaporators ☝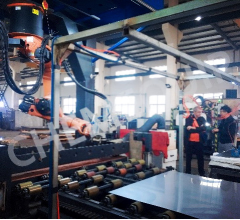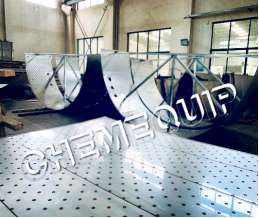 Two Sheets are Laser Welded Together ☝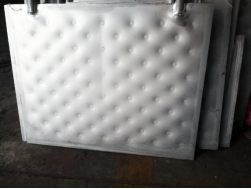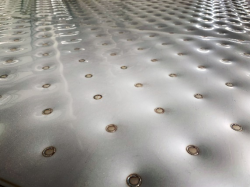 The next two step inflating and pickle passivation. ☝
Our fiber laser welded pillow plate heat exchanger can be used for most of heat exchanger equipment such as:
(1) Pillow Plate  Ice Bank for Ice Thermal Storage
(2) Pillow Plate Falling Film Chiller
(3) Dimple Tank 
(4) Plate Ice Machine
(5) Evaporative Plate Condenser
(6) Immersion Plate Heat Exchanger
(7) Bulk Solid Heat Exchanger
(8) Sewage Water Heat Exchanger
(9) Flue Gas Heat Exchanger
| | |
| --- | --- |
| 1. Steam | 2. Water |
| 3. Conduction Oil | 4. Freon |
| 5.Ammonia | 6. Glycol Solution |
| |   |
(1) The inflated channels create the higher turbulence flow to achieve the higher heat transfer efficiency
(2) Available in most materials, like stainless steel SS304, 316L, 2205 Hastelloy titanium and others
(3) Custom-made size and shape are available
(4) Under the maximum internal pressure is 60 Bar
(5) Low pressure drops
Our pillow plate heat exchanger can be widely applied to the production for falling film chiller, ice bank, jacketed tank and plate ice machine, immersion plate heat exchanger, etc.     
---
Previous:
Bulk Solid Plate Heat Exchanger
Next:
Plate Crystallizer
---
Write your message here and send it to us