Energy-Saving and Efficient Slurry Ice Machine
Product Detail
Product Tags
Slurry Ice machine system produce the slurry ice, also called flowing ice and liquid ice. When applied to the product processing and cooling, it can keep the freshness of product for a longer time, because the ice crystals are extremely small, smooth and perfectly round. It enters every corners and cracks of product which need to be chilled. It removes heat from the product at a higher rate than other forms of ice. This results in the fastest heat transfer, cooling the product immediately and uniformly, preventing potentially damaging of bacterial formation, enzyme reactions and discoloration.
In our slurry ice machine, the solution stored in the tank enters the top of the slurry ice generator and gravity drains through the tube side. Liquid refrigerant from the condensing unit enters the shell side of the evaporator and removes heat from the solution. As heat is removed, some of the water is frozen out of the solution resulting in ice slurry which can either drain into the tank or be pumped to the storage tank. Ice will be built up and delivered from the top of the tank, and the solution are concentrated to be pumped out from the tank bottom as needed.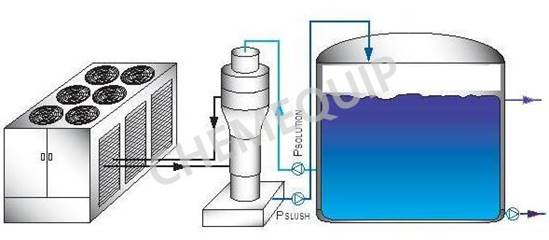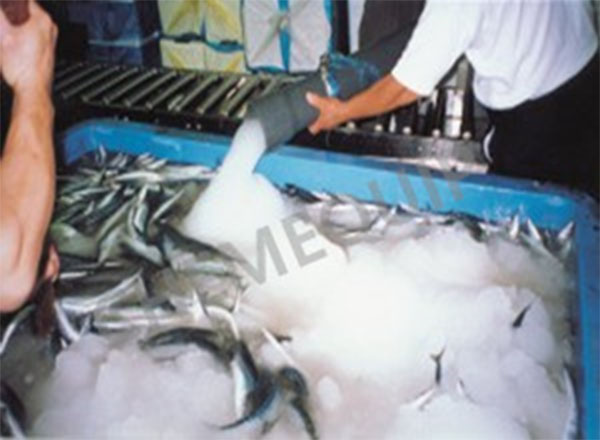 (1) The slurry ice machines produce the soft slurry ice for the seafood cold storage
(2) The slurry ice machine its flowing ice can be used for poultry processing and cooling.
(3) The slurry ice machine can be installed for supermarket use ice
(4) The slurry ice machine is appliable to bakery processing shop.
(5) The slurry ice machine can be used in large indoor factory HVAC system
(6) The slurry ice machine is widely applied to food and dairy processing
(7) The slurry ice machine can be used for concrete cooling
(8) The slurry ice machine system also can be used for mining refrigeration.
1.Higher Energy Efficiency
The slurry ice produced by the slurry ice generator does not adhere to any heat transfer surface, resulting in higher energy efficiency.
2.Compact Equipment
This slurry ice machine its small evaporator footprint offers space savings in the refrigeration equipment room.
3.Less Maintenance
No heat transfer surface scraping, more reliable evaporating
1. Save with Improved Preservation:
Slurry ice crystals are formed in solution under high agitation, creating a tiny, rounded crystal which is easy on the product and prevents discoloration, unlike flake ice, shell ice, or cracked ice which has jagged edges. additionally, slurry ice holds core temperatures consistently lower and longer than flake ice 
2. Save with Energy Efficiency:
With a coefficient of performance of evaporator tops the list for energy efficiency. having a constant high suction temperature of approximately -8.8°C, it produces 1 ton of refrigeration using 1~1.2 kW of energy.
3. Save with Easy, Efficient Ice Distribution:
Pumping the ice slurry directly to multiple points of use ensures high levels of sanitation and reduces labor in both delivering and cleaning up of the ice.
4. Save with System Design Flexibility:
The compact modular packages have a very small footprint, especially in large capacity applications, providing the ideal solution for renovation/expansion projects. Save space in crowded mechanical rooms by locating condensing packages and/or ice storage tanks to remote locations
Slurry ice machine produces the high-quality slurry ice for various refrigeration application: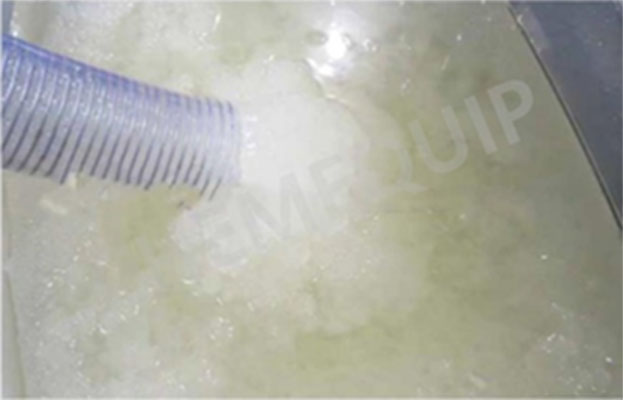 ---
---
Write your message here and send it to us